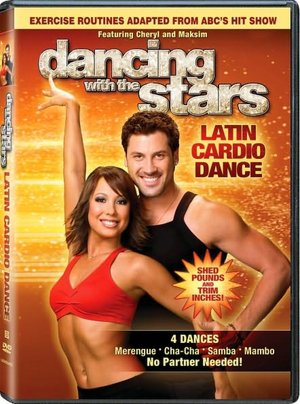 A few years ago I took some International Latin Ballroom dance classes and recently realized how much I missed it! I love the attitude and the process of learning coordination that isn't natural to me.
I was pleasantly surprised with this DVD because it did use the basic dance steps used in latin ballroom, and it was fairly easy to follow along throughout most of the workouts. Even though the dance steps are adjusted into a non-partner routine I enjoyed it thoroughly and will be using it again soon!
A lot of the technique is better with a ballroom shoe, but it isn't necessary if you are just looking for some latin fun. I did this without shoes just to make sure. I also found that dancing with this DVD helped me develop a slightly more natural circular movement for my arms that I had a hard time with previously. I feel a lot more comfortable with the latin movement thanks to this DVD. :)
Warm Up (4 min.)

works on warming the joints, lengthening and isolation.

Merengue (10 min.)

If you are used to graceful and flowing movements then this may be difficult for you, and I had a few moments that I wished she would explain the weight change and directions a little better. But for a quick workout that teaches you some basic moves it was good! If you have even basic latin ballroom experience then you may find this easier than I did.
Cha Cha (10 min.)

I absolutely loved this one! I feel like it is easier to follow and because of that I found myself sweating more than during the Merengue section.
Samba (10 min.)

I also love Samba, so this one was fun for me to do! The only step that I found might be a little fast is the "side cross side touch" in the last few minutes of this workout. By this point my arms are getting more natural and used to the circular movements of latin ballroom. There is also some shimmy-ing in there, that I found fun.
Mambo (10 min.)

This routine was so fun! I love his teaching style and I definitely got a good workout.
Toning Workout (14 min.)

The instructors demonstrate the exercises they do or have their students do to stay toned, strong and able to perform.
If you are interested in purchasing this DVD see the link below:
If you are interested in more Dancing with the Stars workout DVDs then check out the links below:
Happy Training! à bientôt!